Thermal Energy Heat and Power Generation CHP 20kw - 1000kw Biogas Generator
Biogas refers to the methane-based combustible gas generated by organic matter microbial fermentation under the anaerobic condition, for example from industrial sewage water, agricultural waste or urban life organic waste (such as liquid lees, livestock manure, municipal waste and sewage, etc.).
Its main ingredient is methane (CH4), usually accounts for 45% to 60%; followed by carbon dioxide(CO2), accounting for about 30% to 40%; the remaining is hydrogen sulfide(H2S), nitrogen(N2), hydrogen(H2) and carbon monoxide(CO) , account for about 5% of the total volume. Biogas calorific value is about 5500-5800 kcal/m3.

Biogas power generation consists of three systems: biogas production system, biogas clean system and biogas power generation system. Finally low or high voltage electricity is generate (110V/230V/400V/6300V/10500V), both power grid parallel and island operation mode can be customized, electricity generated either be sent to power grid or for self-usage. Exhaust heat of biogas genset can be recovered for heating, bathing or biogas production.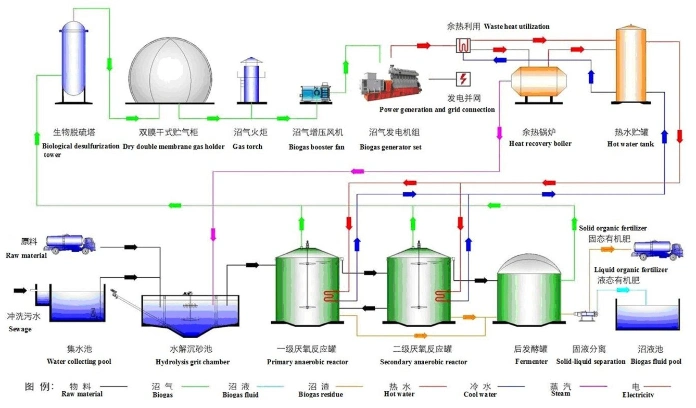 Biogas Generator Profile
Biogas generator set is suitable for industrial sewage biogas, livestock manure biogas, food waste biogas and landfill biogas power generation. In view of the corrosive characteristics of biogas sulphurous, adopting new technology and new material to the engine intake system, combustion system components and inter-cooler, turbocharger and other ancillary equipment for anti-corrosion treatment, to extend its life.
Biogas generator can be used in grid-connected operation and distributed energy system, multi-units parallel island operation, uniform power distribution, timely response of loading and unloading, stable operation.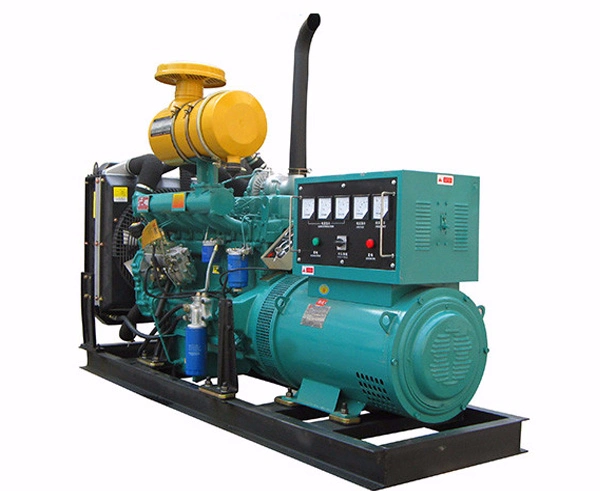 Biogas Quality Suggested
Gas temperature≤40ºC

Gas pressure 2.5

~

10kPa

Methane content≥50%

Pressure change rate≤1kPa/min

Moisture content≤40g/Nm3

,

no free water
Sulfur ≤200mg/Nm3
NH3 ≤20mg/Nm3
Impurity content≤30mg/Nm3

Impurity size≤5μm
Biogas Generator Specification

50kw-400kw specification
Item

Technical specification

Model

50GF

100GF

150GF

200GF

250GF

300GF

300GF

400GF

Cylinder/type

4.L

6.L

6.L

6.L

6.L

6.L

8.L

6.L

Cylinder diameter*stroke (mm)

105*130

114*135

126*130

126*155

127*165

152*180

170*200

200*210

Displacement

(

L

)

4.5

8.3

9.7

11.6

12.5

19.6

36.3

39.6

Rated speed(r/min)

1500

1500

1500

1500

1500

1500

1000

1500

Rated power (kW)

50

100

150

200

250

300

300

400

Rated thermal consumption(MJ/kW

·

h)

11

11

11

11

11

11

11

11

Oil consumption(g/kW·h)

1.5

1.5

1.5

1.5

1.5

1.5

1.0

1.5

Voltage

(

V

)

400V

400V

400V

400V

400V

400V

400V

400V

Current

(

A

)

90

180

271

361

451

541

541

722

Frequency

(

HZ

)

50

Power factor

(

COSΦ

)

0.8 (Lagging)

Phase and connecting

3phases 4wires

Start mode

24V Electric motor

Dimension

(

mm

)

(L×W×H)

2100*820*1500

2300*850*1550

2900*1000*1500

3200*1200*1600

3400*1200*1600

3500*1500*1970

4500*1400*2200

4000*1300*2000

Weight

(

kg

)

1000

1500

1900

2200

2500

3900

7600

4500
400kw-1500kw specification
Item
Technical specification
Engine
Model
6300D/Z
6300D/Z-1
8300D/Z-1
8300D/Z-2
8300ZLD/Z-1
9300ZLD/Z
9300ZLD/Z-1
Type
Inline, water cooled, four stroke, spark plug ignition
Non-turbocharged
Turbocharged, inter-cooled
Cylinder number
6
8
9
Cylinder diameter (mm)
300
Rated speed(r/min)
500
600
500
600
600
600
600
Rated power (kW)
450
550
660
770
1100
1320
1650
Rated thermal consumption(MJ/kW·h)
≤10.5
Rotate direction (From flywheel)
Clockwise
Start mode
Compressed air /motor start
Compressed air start
Exhaust temperature (ºC)
≤600
≤650
Oil consumption(g/kW·h)
≤0.8
≤1.0
Generator set
Type
400GFZ
500GFZ
600GFZ
700GFZ
1000GFZ
1200GFZ
1500GFZ
Rated power(kW)
400
500
600
700
1000
1200
1500
Frequency(HZ)
50
Voltage(V)
400/6300/10500
Current(A)
722/46/28
902/57/34
1083/69/41
1263/80/48
1804/115/69
2165/137/82
2710/172/103
Power factor (COSΦ)
0.8 (Lagging)
Phase and connecting
3phases 4wires/3phases 3wires
Dimension (L×W×H)(mm)
5800×1600×2900
6400×1600×2900
6400×1600×3100
8500×1900×3700
8500×1900×3700
Weight(kg)
18000
22000
25000
42000
42000
Biogas Generator Technical Features
ØLarge cylinder, ensure stable and constant power output
Large cylinder, long stroke, low speed and big power reserves, ensure stable and constant power output.
ØLow speed ensure service life
Low &medium speed reduces components wear, extends service life, reduces components inventory and improve economic benefit.
ØNaturally aspirated
Naturally aspirated, low gas intake pressure requirement (gas pressure ≥2kPa), strong adaptability to gas pressure fluctuation.
ØTargeted designed & High adaptability
For biogas containing H2S, main components are under special treatment, enhance corrosion resistance; for high CO2content in biogas, air-fuel ratio and ignition system are optimized, enhance unit adaptability.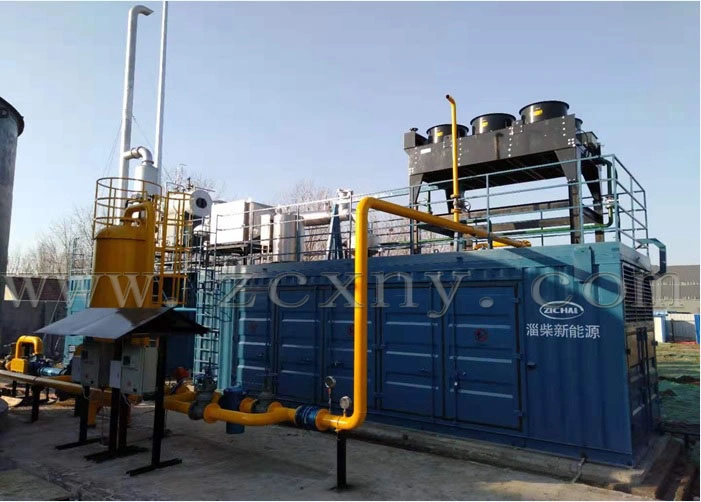 Why Zichai Biogas Generator Set?
1. Development and manufacturing internal combustion engine since 1970
2. Factory area over 330000m2 & over 2200 employees
3. Highly versatile power generator with ability to handle more than 20 different gases
4. More than 200 employees dedicated to developing and improving power generator for various gas.
5. More than 1000 systems installed in over 20 countries using a variety of gases.
6. More than 50 people in the Customer Service Department making the Organization very Customer Responsive.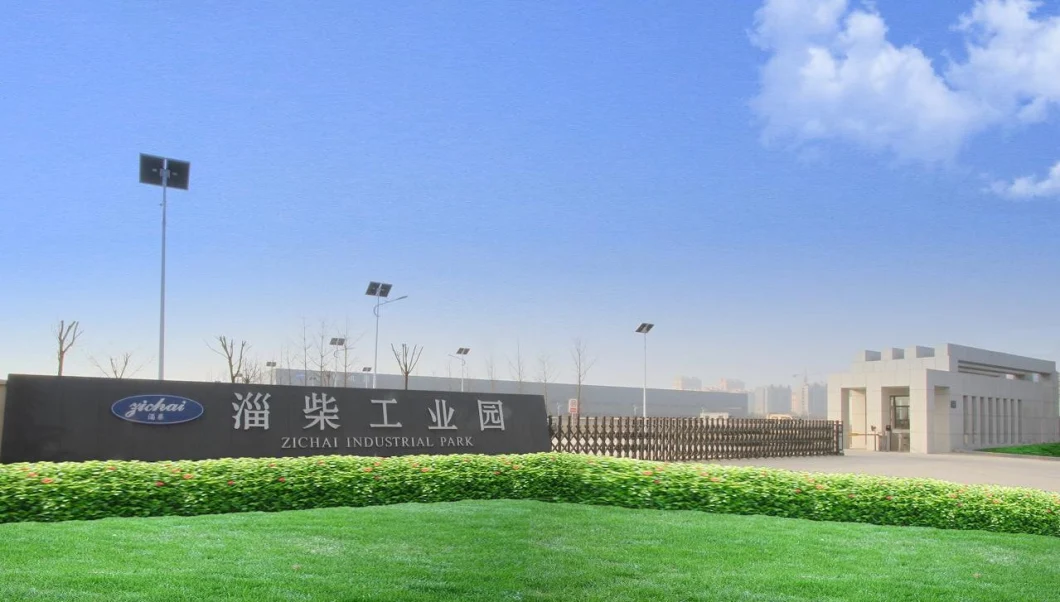 Project References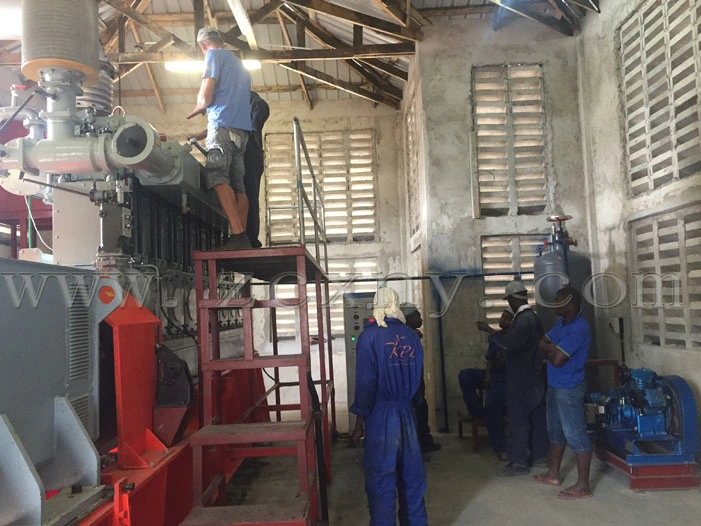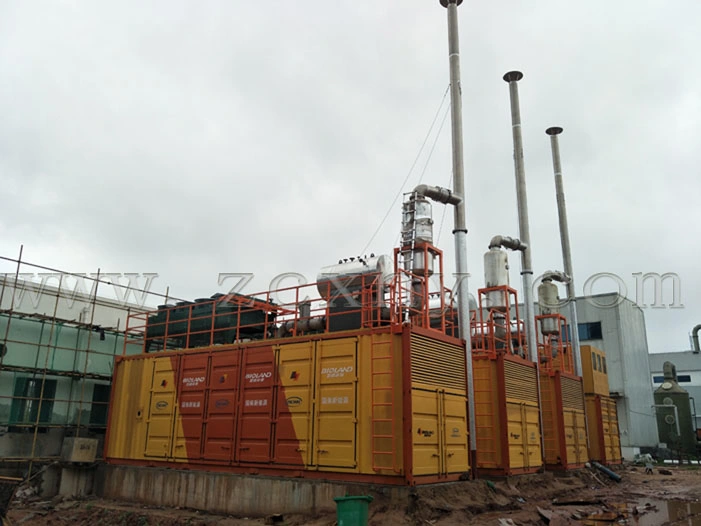 FAQ
1.Are you a trading company or manufacture

?
Manufacture with factory.
2.What kinds of gas generator set do you produce?
It covers for all kinds of gas produced in agriculture and industry, including biomass gas, biogas, natural gas, coal mine gas, coke oven gas, semi-coke gas and syngas, as well as related gas produce equipment.
3.What is your delivery time?
Normally within 60days, it depends on the configuration and quantity, please confirm with us before order.
4.What is your payment terms?
T/T or
L/C.
5.How do you pack products?
Standard export packaging. Equipment packing with plastic bag, and with new solid wooden box, suitable for long-distance sea transportation, moisture-proof, earthquake, rust-proof and anti-brutal handling.
6.What is your available port of shipment?
Normally Qingdao port, other ports available according to customers' requirement.