Municipal Solid Waste
The municipal solid waste(MSW) varies in different cities at different times. Generally, it consists of municipal household refuse, construction waste, ordinary industrial solid waste, and hazardous solid waste, etc. Owing to the complex types of municipal solid waste, it is very hard to treat them together. Meanwhile, most of the wastes are actually recyclable and holding large values potentially. Therefore, the municipal solid waste sorting machine which can get various wastes sorted according to the materials and future values has been turned out to be very useful.
As a big developing country, China has faced more serious problems of municipal solid waste, so as the leader in the waste treatment industry of China, Maxborn is experienced in how to sort them apparently. Using the most advanced waste sorting technology, our municipal solid waste treatment plant has also successfully helped many clients from different countries.
A respectively complete waste sorting machine is consisted of the main parts like plate feeder, uniform material spreader, bag breaker, sealed belt conveyor, rotating screen machine, comprehensive winnowing machine, manual sorting platform, gravity separator, hydraulic packing machine, hydraulic metal presser, and spraying deodorization tower, etc.
The

municipal solid waste sorting machine designed by Maxborn adopts a precise waste sorting system and has a strong capacity of sorting as many as 400 tons of wastes for one production line. Our
waste separation machine
can separate the various wastes clearly according to their volumes, materials, natures and future usages, etc. It cannot only be used for treating municipal solid waste but also used for mining waste sorting.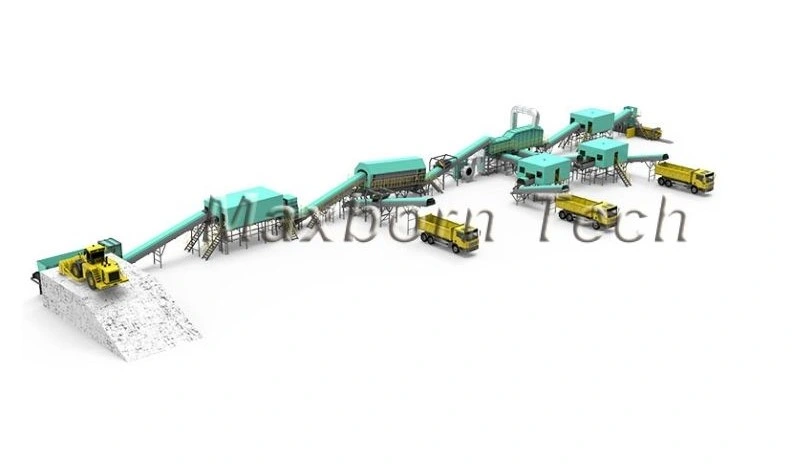 Working Process of Maxborn High-Quality Municipal Solid Waste Sorting Machine

?
Forklift transports the wastes to the loading platform and then the wastes are sent to the plate feeder which can send the wastes to the uniform materials spreader. The wastes will be put uniformly by the spreader and then sent to the belt conveyor.
At the manual sorting platform, bulky materials will be sorted out.
And then in the magnetic separation machine, iron matters will be sorted out. The rest will be sent to a rotating screening machine to be sorted according to diameters.
Generally, the rotating screening machine can separate wastes below or above 50 mm. But in fact, the bore diameter of the screening machine can be adjusted based on actual needs.
Wastes below 50 mm, called undersized matters, are mostly organics that can be shipped out and used as fertilizer after picking out iron matters through the magnetic separator. Oversized wastes above 50 mm will be sent to the magnetic separation again to separate materials like irony drink cans or packing tins and then go to the eddy separator to sort non-ferrous matters out.
A comprehensive winnowing machine can sort the wastes into the following types, light plastic waste; heavy materials (e.g. bricks and stones, rubber overshoes, ceramic chips, glasses, etc); and other materials like hard plastic, textile fabrics, rubber products, and wet papers, etc.
The last ring of the process is manual sorting again. light plastic will be sent to the packing machine after sundries being sorted. Usable parts from heavy materials will be sorted out for further treatment and the rest will be transported out for landfill or receive focus utilization. Usable parts from other materials will also be sorted out for further treatment likewise. Hard plastic, textile fabrics, rubber products, and organics can be sold out after being pressed and packed.
As for the combustible wastes, they are usually transported out after pressing and packing and then used to generate electricity or for landfill. Thereinto, a bag breaker can be equipped before the magnetic separator to break the bags inside of the wastes.
You can also refer to the following recycling sorting machine video to learn more about Be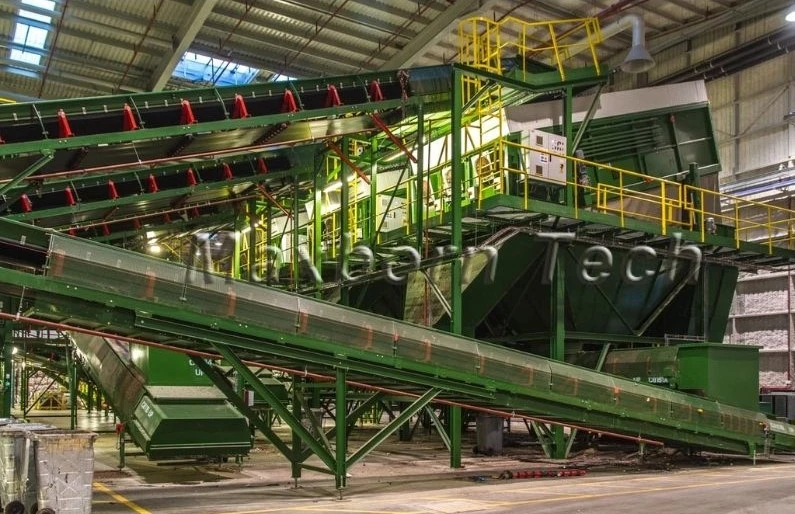 The superiority of Maxborn Waste Sorting Machine
Reasonable structure with the high-level automatic operation to reduce labor intensity.
Sanitary and clean working process: a. Non-loaded cleanser, head sweeper, roller sweeper, and ending part tension device are equipped for all belt conveyors. b. We configure the odor control system to make sure a good and healthy working environment for the workers. c. We use a sealed transmission device and a de-dusting device to control fly ash and dust, especially when sorting mining waste.
Safety design: a. Every part of the system is equipped with a manual auto switcher and emergency stop device, locating at an easy operation position, to avoid error starting or electric shock. b. The whole process of working is under full automatic control to avoid manual operation mistakes.
Considerate configuration. We consider the convenience of transportation, installation, use, maintenance, and repair for clients in machinery design and manufacture. We can also supply configurations for our clients based on their real needs.
Specifications of Waste Sorting Machine for Sale
Model
MB-100
MB-200
MB-400
Raw material

Municipal solid waste, household waste, industrial waste, landfill waste, and mining waste

Capacity
5T/H
10T/H
20T/H
Power
149 KW
224.7 KW
279 KW
Occupied area
2400m2
2800m2
3000m2
Working time
8-16 H
8-16 H
8-16 H

Where Does the Garbage Go After Sorting
Most of the garbage:
Plastic: can be reprocessed by

plastic pyrolysis machine

to get plastic oil and carbon black, then get diesel by

crude oil distillation unit

; can be pelletized into plastic pellets by plastic pelletizing machine;
Metal: can be used to produce steel materials;
Organic: can get biogas from fermentation system;
Biomass wastes like straws, wood, sewage sludge, etc.: can be carbonized to get charcoals by

charcoal making machine

;
Brickbats and stones: can be briquetted into new bricks for construction use.
Others:
Kitchen garbage: can be turned into organic fertilizer and biogas;
Combustible materials: can be recycled to brand-new fuels, which is called rubbish derivation fuel.
Maxborn municipal solid waste sorting machine is a large waste sorting facility for wastes centralized processing. Most of the time, it is the first step for wastes treatment. Since many wastes are recyclable, you may need subsequent plants for reprocessing them and then get more profits, such as pyrolysis plant, carbonization machine, plastic pelletizing machine, etc. You can go to the homepage of Beston to know more about Maxborn eco-friendly plants or leave you a message to us now.
Our facilities can:
Achieve maximum diversion from your waste stream

Handle a variety of incoming material streams: residential MSW, construction and demolition waste, organics, and commercial waste

Integrate with multiple conversion technologies: anaerobic digestion, gasification, and pyrolysis

Lower processing and labor costs per ton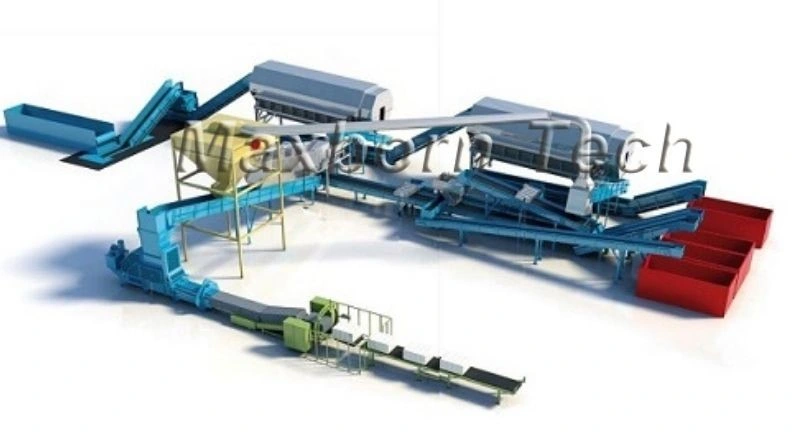 TO KNOW MORE HOW TO CHOOSE A QUALIFIED BALER MACHINE, CONTACT US FOR A CHECKING LIST.
Packing details:
Size: 7*40 HQ
Delivery time: Within 40-60 days after deposit received.
Port of loading: Tianjin port/Qingdao port
Meet The Team
Chia Wong
started MAXBORN after 10 years of experience with a marketing firm. Her mission was to reduce overall customer costs by providing the highest quality equipment consistent with customers' requirements.
Eng. Zhang joined the company after graduating from college in 1991. He became an engineer manager in 1997 after extensive field experience. Have a question about what the best machine would be for your space and challenge? Zhang will help you select the right equipment and get you up and running with efficiency and ROI in mind.
Mr.Zhao,
joined the company in 1999, shortly after graduating from college. Our company service manager, Zhao expertly routes service personnel, makes sure that truck inventory is maintained, and meets and exceeds our customer service deadlines. Have a true service emergency? Zhao is the guy who can put your mind at ease with accurate information.
Contact us
for a no-obligation on-site survey to determine your exact requirements. It is our company policy never to oversell or undersell.