IRCD4 Biogas Detector for Biogas Digestion Plant CH4 CO2 H2S O2 Portable Biogas Analyzer
1. Application
CH4, CO2, H2S, O2 Portable Biogas Gas Analyzer is extensively used in petroleum, petrochemistry, chemical industry, gas, coal, metallurgy and power system;safety detection in municipal administration, communication and traffic tunnel construction; electronics and semiconductor industry, animal husbandry, biogas plant & biogas digester and other places where toxic and harmful gases exist.
IRCD4 biogas detector can be also used in food & beverage industry, agriculture, medical industry, lab, etc for related gas analysis.
2. Specification
Gases detected

CH4, CO2, H2S, O2

Measuring range

CH4: (0-100)%vol

CO2: (0-100)%vol

H2S: (0~1000) ppm

O2: (0~30.0)%vol

Resolution ratio

CH4: 0.01%vol, CO2: 0.01%vol,

H2S: 1ppm, O2: 0.1%vol

Sensor

Infrared sensor and electrochemical sensor

Sensor lifetime

≥5years( CH4, CO2)

≥2years( H2S, O2)

Response time

CH4: ≤45S ( T90 )

CO2: ≤45s (T90)

H2S: ≤45s (T90)

O2: ≤35s (T90)

Alarms

Audible--buzzer with ≥80dB audible

Visible--flashing red LED, ≥20m visible

Alarm point

Fully adjustable

Data logging (optional)

Continuous Data logging (1900 events at

configurable 0.1-10 minutes intervals)

Continuous working time

≥13hours

Display

Liquid Crystal Display(LCD)

Battery model

PL123450, 3.7V/1500mA

Charging time

4-5 hours

Dust and water resistance

IP65

Size & Weight

130*66*30mm, 250g

Ex sign

Exibd I
3. Product Features:
1. Handheld, industry use, high sensitivity and accuracy
2. Intrinsically safe, Ex sign is ExibdI
3. Rugged ABS+PC case, heavy duty, crash resistant
4. High-capacity chip, 4 layers PCB board
5. Visual & audible alarm
6. High & low alarm point, fully adjustable
7. Low battery alarm
8. Rechargeable battery
9. LCD large screen display with Real time clock and status of battery
10. With Stainless Steel belt clip
11. Support data logging function
12. External air sampling pump is available for gas leak detection.
13. Multi gas detector can be made for any 2-5 gases in any combination.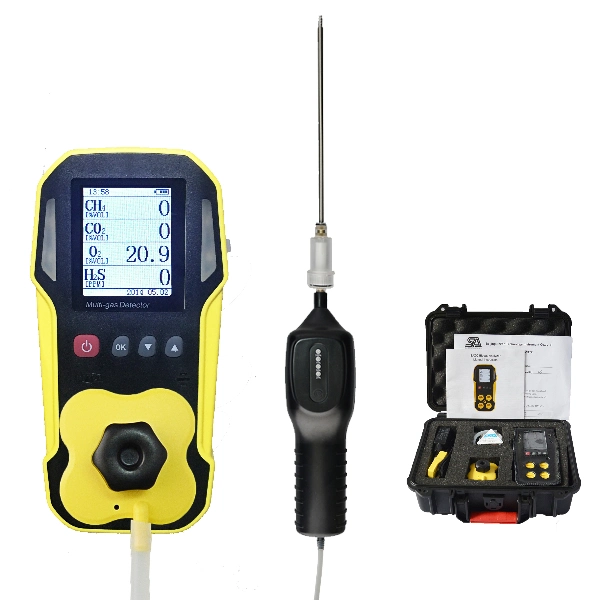 Standard accessory:
USB extension cord, charging adapter, calibration cap, calibration hose, stainless steel alligator clip, hanging cord, leather case, manual

Optional accessory:
External gas sampling pump, professional suitcase, data logging function

Beijing Sh'an Technology Instrument Co., Ltd is a manufacturer in Beijing, China. It focuses on gas detection products from designing, engineering, programming, molding to assembly, testing, calibration and maintenance.
Shiantech is ISO9001 approved and SGS audited and we have Ex certificate, safety certificate and CE certificate for our portable gas detection products.
ODM and OEM are always welcomed and tailored products and solutions are the essential and ultimate goal we are ready to deliver to our esteemed customers.