8000L/H water purification plant cost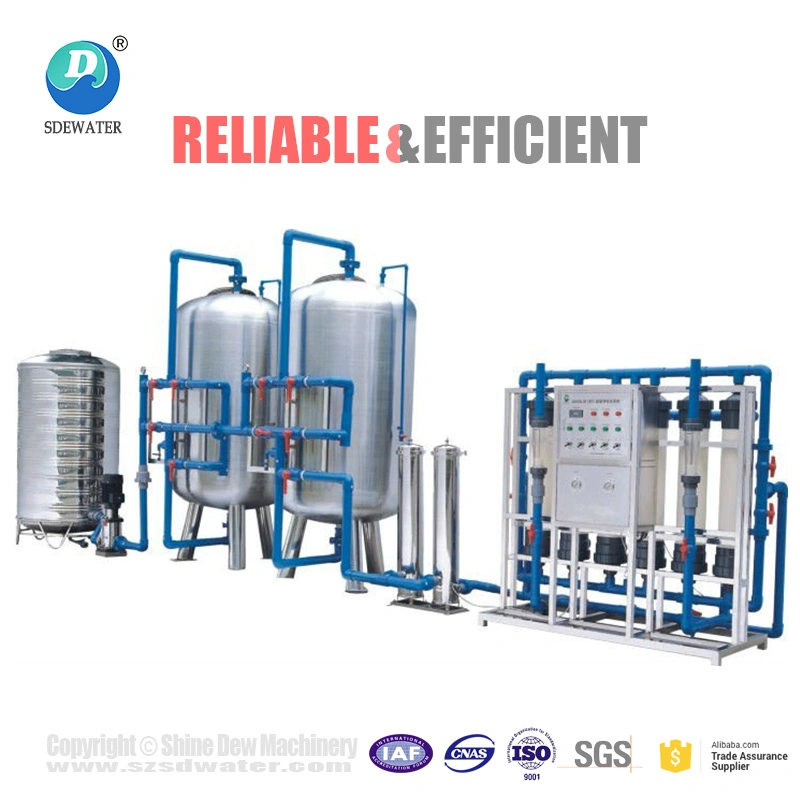 Concept of UF system:
UF system refers to ultrafiltration system.
Application:
UF system applies to food, beverage, chemical industry, also can be key unit of water purification device in community, industrial park, etc.
Features:
1) Food-grade stainless steel 304 for the parts in contact with water, meet the food industry standard.
2) PLC automatic control with world famous brands like Mitsubishi, Siemens, Omron, etc., good stability.
3) Water pumps with world famous brands like Grundfos, CNP, etc., good stability.
4) UF membranes with world famous brands like Toray, Dow, Hydranautics, etc., good stability.
5) Standard machine parts, easy to do maintenance work, greatly reduce the maintenance costs and improve work efficiency.
6) Emergency stop and other safety features provide unparallel operator safety.
7) All parts and service plans available.
UF water purification equipment, Machine specifications are as below:
| | | |
| --- | --- | --- |
| 1 | Water Pump | CNP brand or Grundfos brand [Optional] |
| 2 | Tank/Vessel | Stainless steel 304 or Fiber glass [Optional] |
| 3 | UF membrane | DOW/Hydranautics/ Toray or Equal brand [Optional] |
| 4 | CIP system | CNP brand or Grundfos brand [Optional] |
| 5 | PP filter | Stainless steel 304 or Fiber glass [Optional] |
| 6 | PLC control | Omron/Mitsubishi/Siemens brand [Optional] |
| 7 | Electronic component | Schneider brand [Optional] |
| 8 | Pipeline | Stainless steel 304 or U-PVC [Optional] |
| 9 | Production capacity | 8000L/H |
Flow chart for the 8000L/H UF System Mineral Water Filtration Plant:

Company Information
Shine Dew Water Equipment Co., Ltd. is a specialized manufacturer of drinking water treatment equipment, auto bottling machines, labeling machines and other auxiliary equipment, with more than 10 years of experience in China. We have exported our machines to Central and South America, Africa, the Middle East and Southeast Asia. Furthermore, we have completed many turnkey projects of water treatment factories for our customers from the above-mentioned regions. Moreover, we can also provide turnkey services for water bottling plants and beverage production plants.
Our goal is to assist our customers to provide healthy water for human beings. We sincerely hope to develop together with our customers in the field of water treatment industry. We welcome your contact via email, telephone and fax. We will always do our best to serve you.More information
Certifications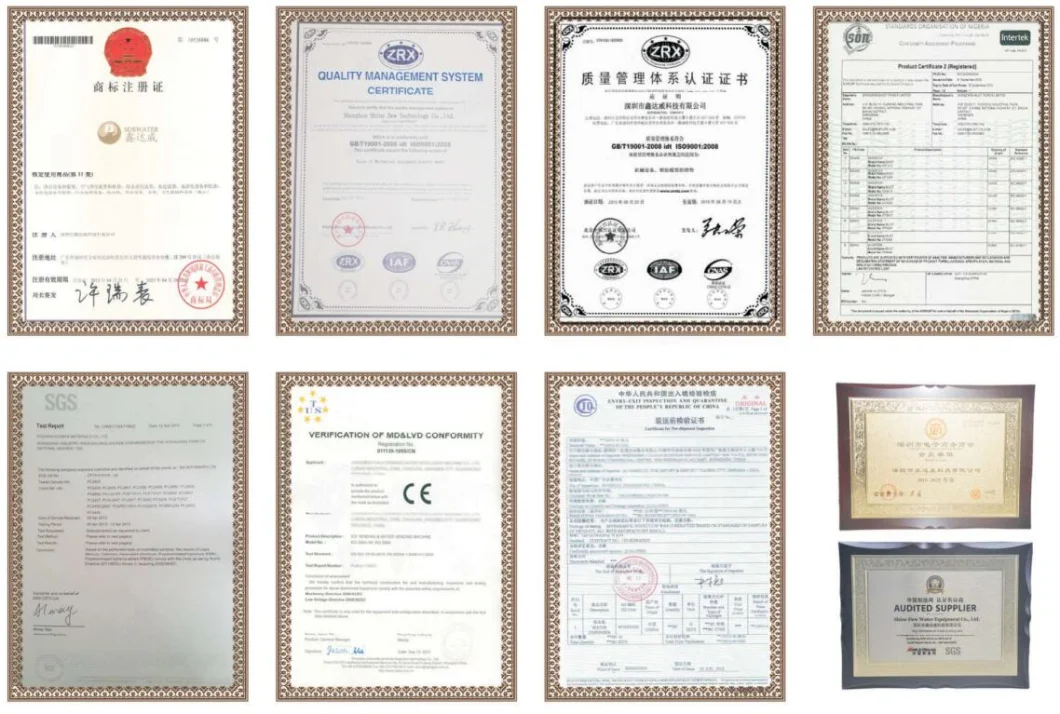 Our Services
1. Proposal design and budget making 2. Factory layout design 3. Bottle shape design

4. Label design 5. Machines production&commissioning 6.Packaging&shipping

7. Installation&training in Africa 8. Raw material supply

FAQ
Q1: Can you provide more information about this product, and quote the best price?
A: Sure, please contact us via any methods showed on this page, and we will send our product catalog, company profile for your reference.What's more, we will customize detailed offer according to your specific requirements.
Q2: The price is a little higher than my budget. Can you offer a better price?
A: The first proposal is preliminary design, as a professional buyer; pls don't only focus on the price. If you have any question or request, pls don't hesitate to contact us. Then we will adjust the configuration and quality according to your request. Your feedback will lead us to make the proposal to match your request.
Q3: What else need to be paid attention besides price?
A: except for the price, we also need pay attention to quality, product construction, design principle, configuration of part list, reasonability, convenience of operation, professional, service and etc.
Q4: Can you provide turnkey project service?
A: Yes, of course, we can provide the full set of turnkey project service to you.
Q5: How long of your warranty?
A: Regarding warranty, normally we offer 1 year warranty/3000 hours warranty, and we also offer lifetime maintenance.
Q6. Do you accept OEM order?
A: Yes, we have strong design team and technical team. Therefore we can also accept OEM and customized order with special requirements.
Welcome to visit our company!
Thank you so much for your value time.
Any questions please feel free to contact me !