Animal Manure Animal Waste Organic Fertilizer Granulation Production Line
Introduction of Organic Fertilizer Production Line
The organic fertilizer production line is commonly used to process different fermented organic substance into bio-organic fertilizer. It adopts one-step molding technology. Animal manure and agricultural waste are recycled as the main raw materials, thus manure or dung waste is not only creating economic benefits for the enterprise, but also making a great contribution to environmental projects for mankind.

After safety disposal and fermentation, these materials are made into organic fertilizer. Thus, organic fertilizer containing a variety of organic acids, peptides, and rich nutrients including nitrogen, phosphorus and potassium. Not only provide comprehensive nutrition for crops, also with long fertilizer effect, which can Increase and update the soil organic matter and promote microbial breeding, improve soil physical and chemical properties and biological activity.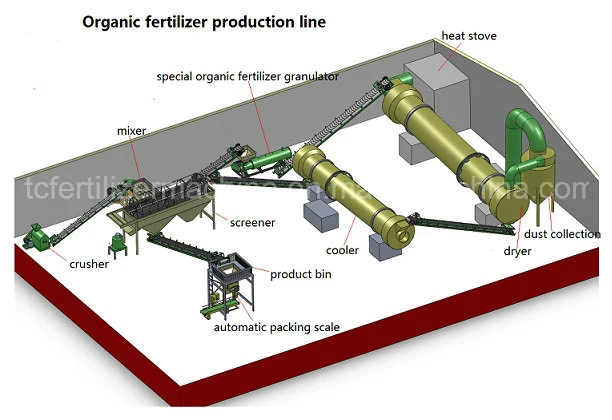 The raw material of bio-organic fertilizer:
| | | |
| --- | --- | --- |
| No. | Category | Raw materials list |
| 1 | Agricultural waste | straw, dregs of beans, cotton dregs, rice bran, etc. |
| 2 | Animal waste | Mixture of poultry litter and animal waste, such as slaughterhouse waste, fish market, urine and dung of chicken, pig, cattle, sheep ducks, geese, goat, etc. |
| 3 | Industrial waste | Wine lees, vinegar residue, manioc waste, sugar scum, etc. |
| 4 | Home scrap | Food waste, bones, the roots and leaves of vegetables, etc. |
| 5 | Mineral | Humic acid, Bentonite, dolomite, etc. |
| 6 | Municipal sludge | River silt, sewage sludge, etc. |
Main equipment of organic fertilizer production line: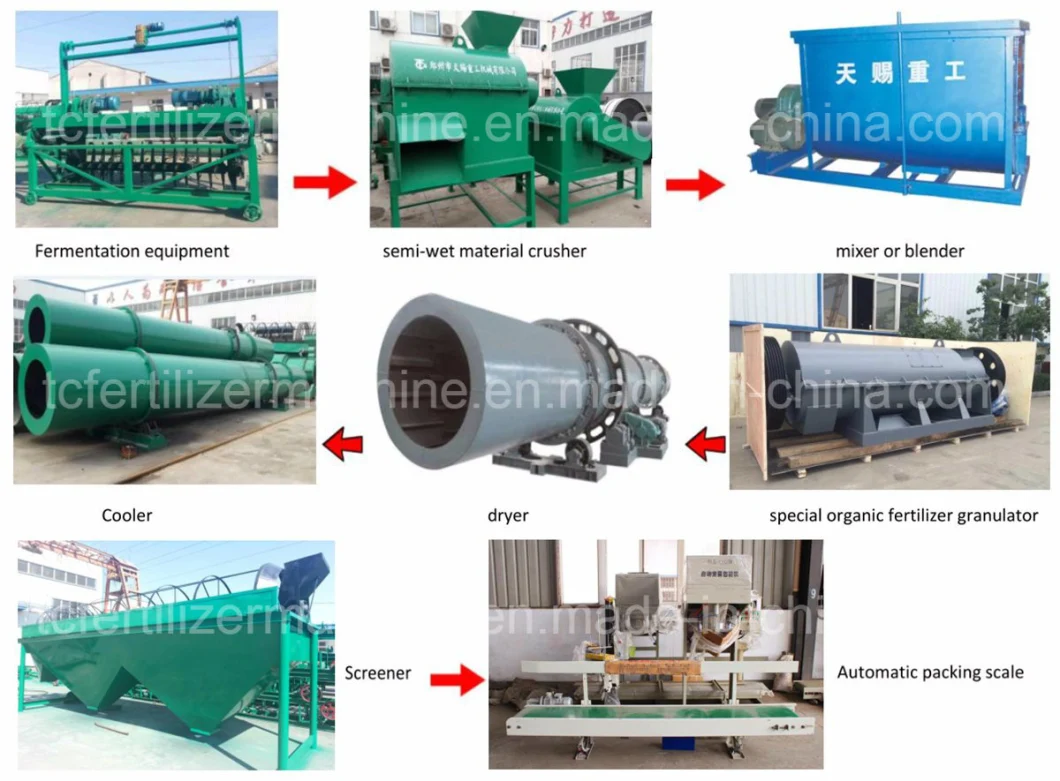 | | | |
| --- | --- | --- |
| No | Equipment name | Equipment description |
| 1 | Materials crushing | Crushing materials into small pieces. |
| 2 | Mixing | The mixed material should be mixed completely, then get into granulator. |
| 3 | Granulation | The special organic fertilizer granulator can make the materials into granules. |
| 4 | Drying | After granulating, the moisture of fertilizer is bit high, it is not suitable for long-term storage, so we need drying process. |
| 5 | Cooling | The cooling machine is used to cool the hot fertilizer. |
| 6 | Screening | There are some non-uniform particles after sieving, the smaller particles are sending to mixer, the bigger particles are sending to crusher. |
| 7 | Coating | The particle surface is not uniform, sleek case, we need to coat the surface of fertilizer granules. |
| 8 | Packing | After package, ther fertilizer can be sold. |
Our company information: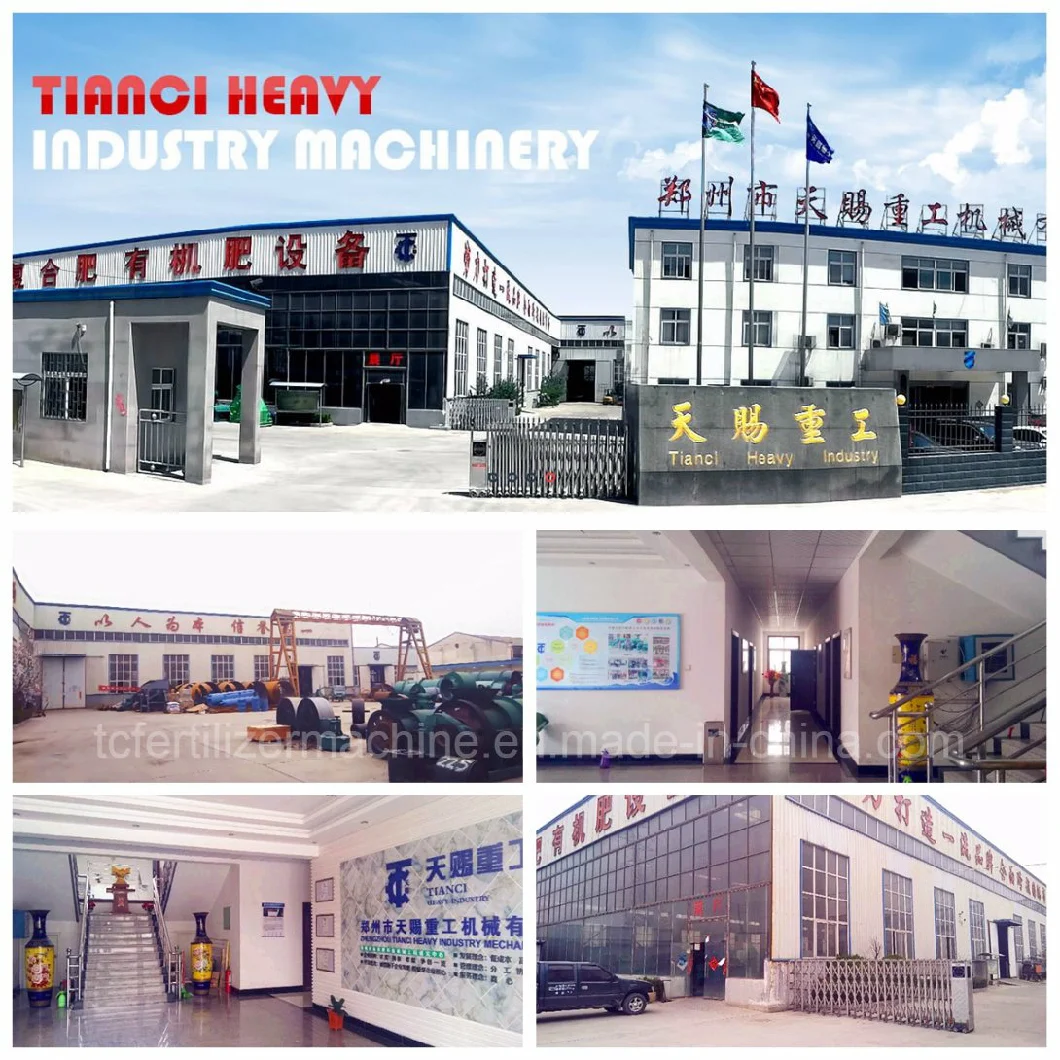 Our advantages:
1.Main products: compound and organic fertilizer granulator, mixer, belt conveyor, dryer, screening machine, dewatering machine, crusher, weighing packaging machine, etc.
2.Designated production enterprise by Agriculture Department
3.We account for 80% market shares in compound and bio-organic fertilizer manufacturing filed in China.
4.Processional Research and Development team
5.Strict quality control system
6.We provide competitive prices, reliable quality products and swift delivery time.
7.Exported to more than 30 countries in Africa, South America, Mid East, Central America and other area, such as, India, Korea, Australia, etc.
Our Pre-sale Service:

1.Offering comprehensive technical and business consultation services;
2.Proposing the most suitable scheme and equipment for our clients;
3.Designing and fabricating targeted products according to the special requirements of clients;
4.Training periodically high qualified service technician.
Our customer visiting: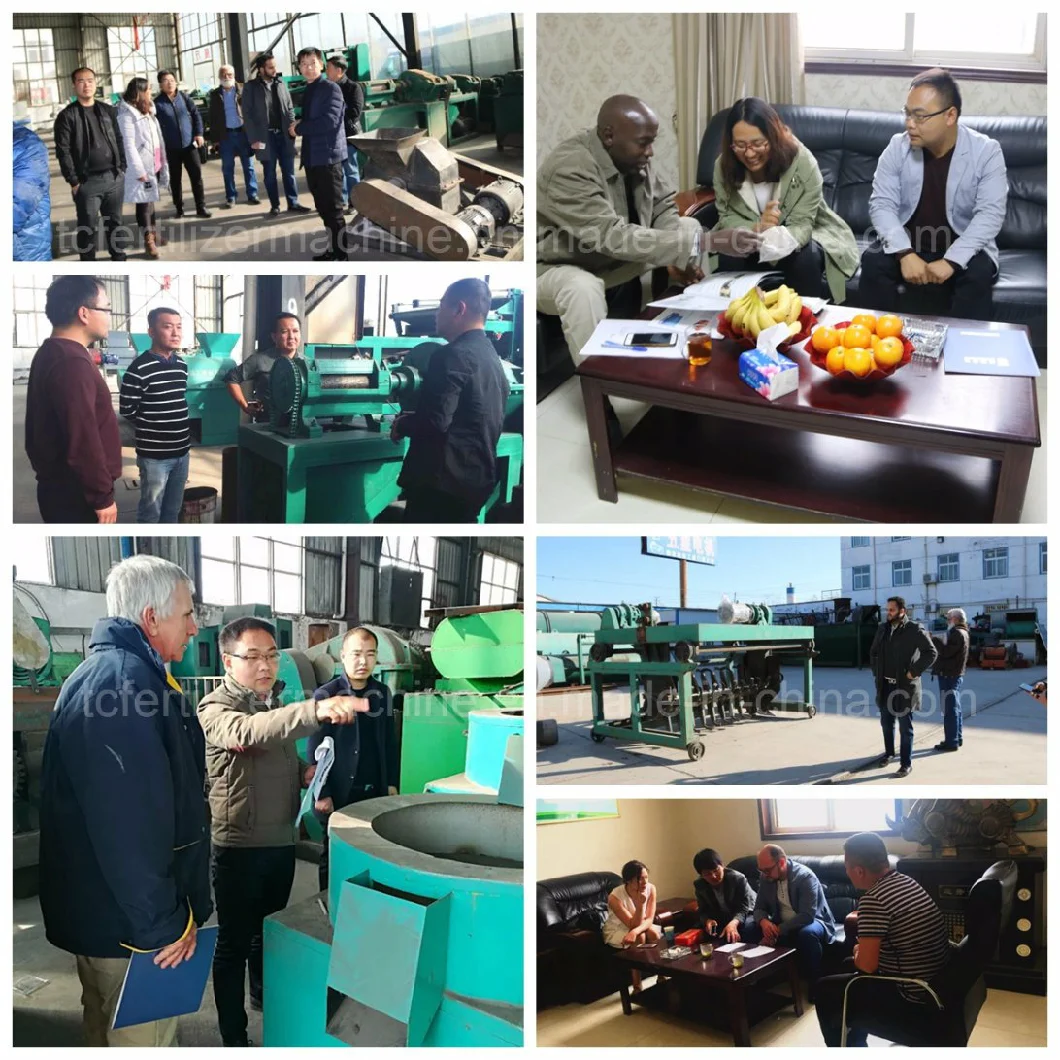 Our loading and transportation: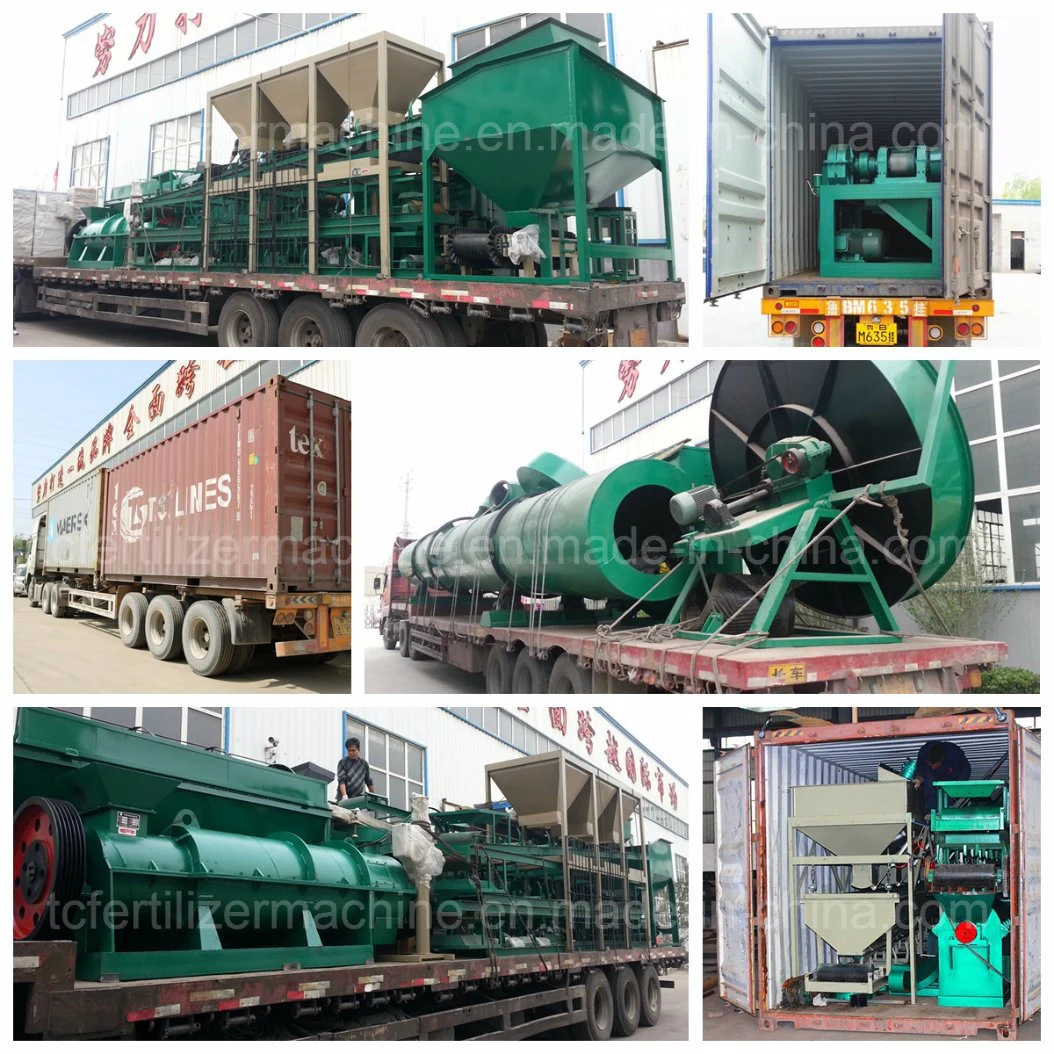 Our after-sales Service:
1.Highly inspecting equipments in every working procedure, quality comes first;
2.Fast & Safe Delivery;
3.Assisting our clients for foundation construction of equipments;
4.Dispatching engineers to install and debug equipments;
5.Training the first-line operators on site;
6. Regularly visit clients to solve production problems Providing life-long maintenance service
7.Providing technical exchanging.
Our installation overseas in site: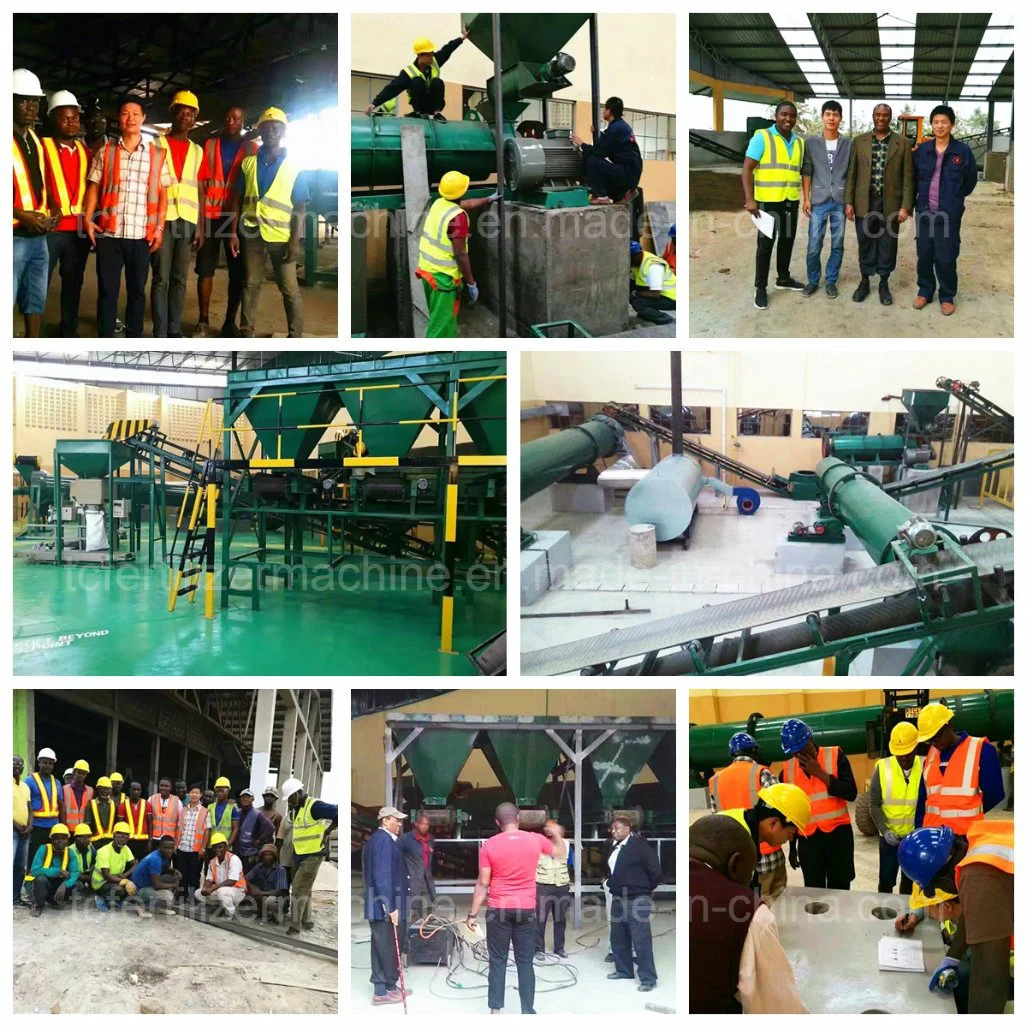 FAQ:
1.Are you manufacturer or trade company?
We are a professional manufacturer for producing fertilizer process machines and related machine(granulator, crusher, mixer, packing, feeding machines and conveyor belt) etc.
2.How about the delivery time?
It can be shipped immediately for the machine in stock,and 5-7days for the machine out of stock
3.How long is the guarantee?
Warranty for 12 months without artificial and deliberate damage.
4.How should to do if I meet some trouble while using?
The English manual book and video will be provide for showing how to resolve the problems, if necessary, we will dispatch our engineer to your factory.
5. Do you provide the installation service after ordering your machines?
As for the single machine, we provide the users instruction and operation video.
As for the production line,we provide the professional construction drawing, and arrange the engineer guide the user install the machines.Help the user train the skilled workers.
6.Can we visit your factory for machine testing operations?
We warmly welcome the clients to visiting our factory for trying machine.
7.Can we see some fertilizer plant with your machine?
We can take the customer to visit fertilizer plants with our equipment.
Welcome your question or visiting at any time!