Pasture Grass Rolling Dryer

Product Introduction
Pasture dryer is applied for drying grass, forage, alfalfa, Napier grass, elephant grass, ( including materials like energy grass, herbage, lucerne, purple medic, Medicago falcata, etc.) According to the characteristic, production capacity, applying requirement, cost control, operating convenience of each biomass material, our company optimizes the drying technology. Recommended products: three-layer rotary drum dryer, patent number: ZL2009 2 0089749.2. This equipment is of a huge production, high efficiency, and energy-saving, small floor space. Compared with common dryer machines, it saves energy by 30%-50%, thus saving energy and drying cost to the maximum.
Zhengzhou Jiutian can provide the rotary dryer for just about any industrial drying application. We have been manufacturing dryers for many years and have the knowledge and experience required to provide a cost-effective drying solution that works well.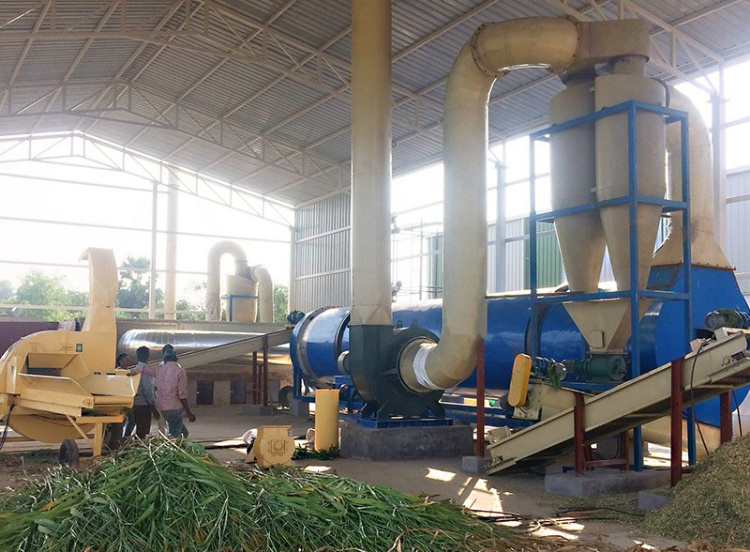 Product Features
1. The internal adopts assembled structure which has improved the accuracy of the equipment and it is easy to transport and install.
2. According to the characteristics of different materials, we have arranged the second granulation zone reasonably so as to improve the granulation effect.
3. Adopts assembled hoist boards so as to exchange heat fully and lower the energy consumption.
4. Temperature induction monitor, uniform vibration, and airproof setting, which improve performance and productivity efficiently.
5. The assorted combustion furnace is a type of energy-efficient and has the characteristics of smaller areas, easy regulation, and equipped with greenhouse.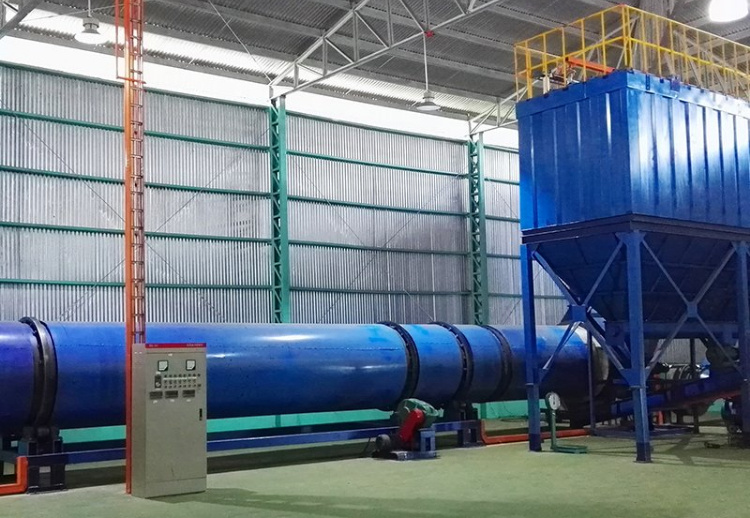 Drying Process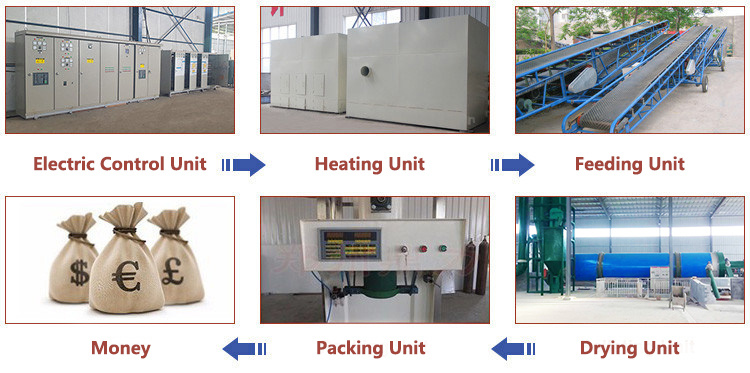 Working Principle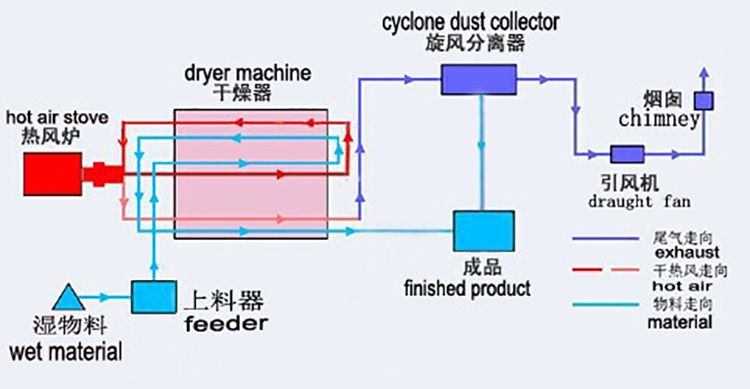 Technical Specifications
Model(JTSG)

1409

1615

2008/3

2010/3

2210/3

2510/3

2512/3

2912/3

Input Capacity(t/h)

0.85

1.6

2.89

3.68

4.02

4.95

5.84

6.75

Output Capacity(t/h)

0.4

0.75

1.36

1.73

1.89

2.33

2.75

3.18

Vaporization(t/h)

0.45

0.85

1.53

1.95

2.13

2.62

3.09

3.57

Early Moisture(%)

60±5%

Final Moisture(%)

15%(adjustable)

Drying Temperature(ºC)

350±30ºC

Total Power(kw)

34

45

78

90

105

125

140

155

Total Weight(t)

22

28

40

45

50

60

68

76

Plant Area(m)

5*15

6*22

8*16

8*18

8*20

10*0

10*24

10*24

Except for the above models, we can also supply special models according to your requirements.
Package & Delivery
Standard export containers. Bare main machine, motors, and small parts are packed in wooden cases. We can also pack them according to your requirements.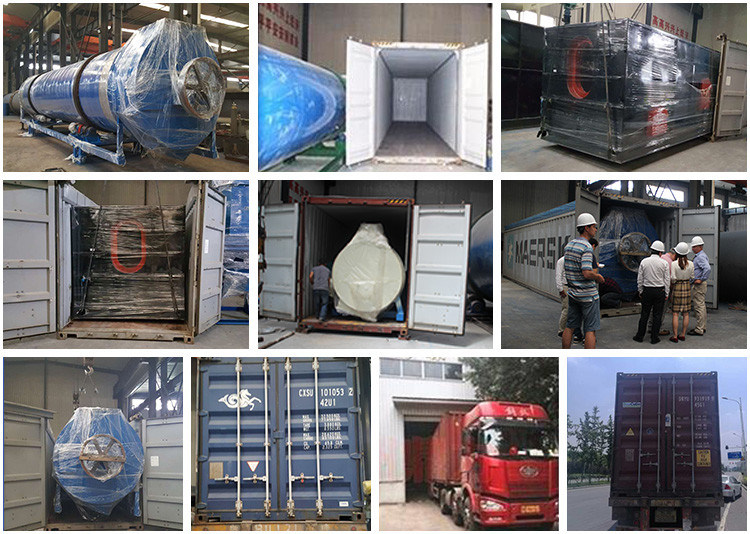 FAQ
Q: What is your Business Model? Trading company or factory?
A: We are a 15 years factory, all our machinery is manufactured by ourselves, factory direct sales, product quality, and after-sales service can be guarantee.
Q: Can I visit your factory?
A: Yes. Many domestic and international customers visit our factory every year. Our company is located in Zhengzhou Henan province, China, you can come here by air or train.
The nearest airport is Zhengzhou Xinzheng International Airport, and the Airport Code is CGO.
We will pick you up at the airport. Welcome to visit our factory.
Q: What is the Quality of your products?
A: Zhengzhou Jiutian products come with the best quality, and our products passed CE certification, exported to lots countries around the world, such as Australia, Malaysia, India, Italy, Indonesia, Vietnam, Philippines, Korea, Brazil, Argentina, Russia, South Africa, etc. You can rest assured of the quality absolutely.
Q: How long is the Warranty of your equipment?
A: Our warranty period is one year generally.

About Us
Zhengzhou Jiutian Machinery Equipment Co., Ltd. dryer products cover all kinds of slime products such as coal slime, dregs, biomass, organic fertilizer, sludge, yeast, coconut fiber and chaff, and coconut. At present, the company not only has a huge customer resource system and considerable market share in the country but also in the UK, Russia, Greece, Italy, Israel, Morocco, Congo, Egypt, Côte d'Ivoire, Madagascar, Australia, India, Vietnam, Laos, Indonesia, Malaysia. In many overseas countries such as Sri Lanka, Chile, and the United States, the dryer case was established and successfully put into operation, and the quality and technology of the dryer products were in line with international standards.