High Technology Complete Automatic Uht Milk Processing Production Plant Line
Product Information
The whole milk production line consists of the following systems:
1.Water Treatment section
2.Milk Receiving or powder dissolving Section
3.Preparation Section
4.UHT Sterilization Section
5.Filling & Packaging Section
6.CIP Cleaning Section
7.Chiller
8.Compressor
9. Steam Boiler
10. Installation Material
Description:
With a product that can be stored for long periods without spoiling and with no need for refrigeration, there are many advantages for both the producer, the retailer and the consumer. This includes expensive products such as cream, desserts and sauces.
In a modern UHT plant (Ultra High Temperature) the milk is pumped through a closed system. On the way it is preheated, highly heat treated, homogenized, ultra highly heat treated, cooled and packed aseptically. Low acid (pH above 4.5 - for milk more than pH 6.5) liquid products are usually treated at 135 - 150C for a few seconds holding, by either indirect heating or direct steam injection or infusion. High acid (pH below 4.5) products such as juice are normally heated at 90 - 95C for 15 - 30 seconds holding. All parts of the system downstream of the actual highly heating section are of aseptic design to eliminate the risk of reinfection, include aseptic packaging in packages protecting the product against light and atmospheric oxygen. Ambient storage is normal.
Various UHT systems:
There are two main types of UHT systems on the market.
In the direct systems the product comes in direct contact with the heating medium, followed by flash cooling in a vacuum vessel and eventually further indirect cooling to packaging temperature. The direct systems are divided into:
steam injection systems (steam injected into product),
steam infusion systems (product introduced into a steam-filled vessel).
In the indirect systems the heat is transferred from the heating media to the product through a partition (plate or tubular wall). The indirect systems can be based on:
plate heat exchangers,
tubular heat exchangers,
scraped surface heat exchangers,
Furthermore it is possible to combine the heat exchangers in the direct systems according to product and process requirements
Competitive Advantages
Well and High Quality Control ,
Prompt Delivery ,
New Product ,
Customer's Design and Logo are Welcome ,
Competitive Prices ,
Earth-friendly Products ,
In a Variety of Design ,
Small Order Acceptable ,
ODM Accepted ,
OEM Accepted.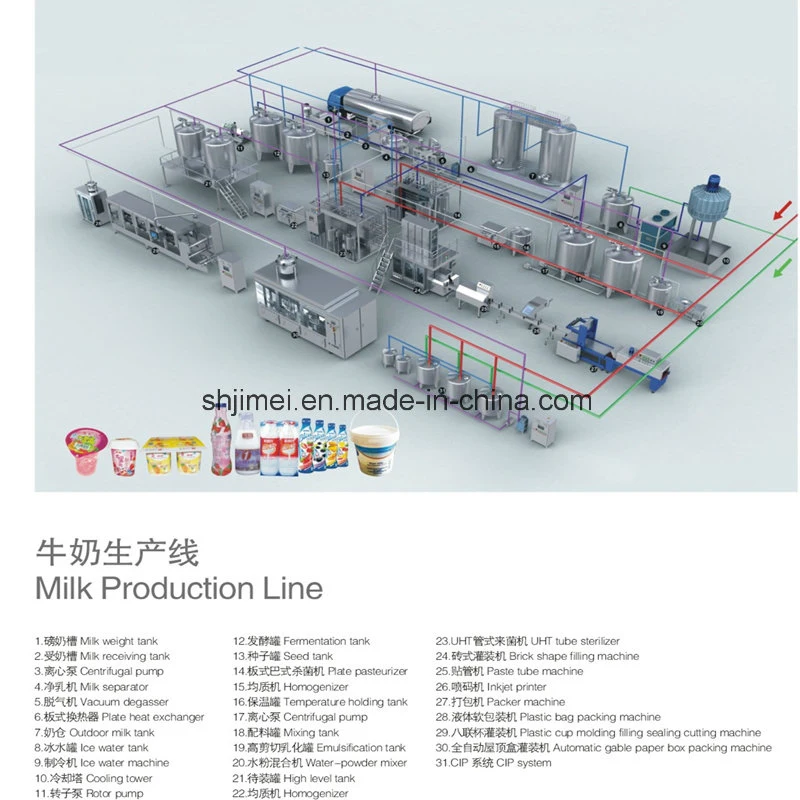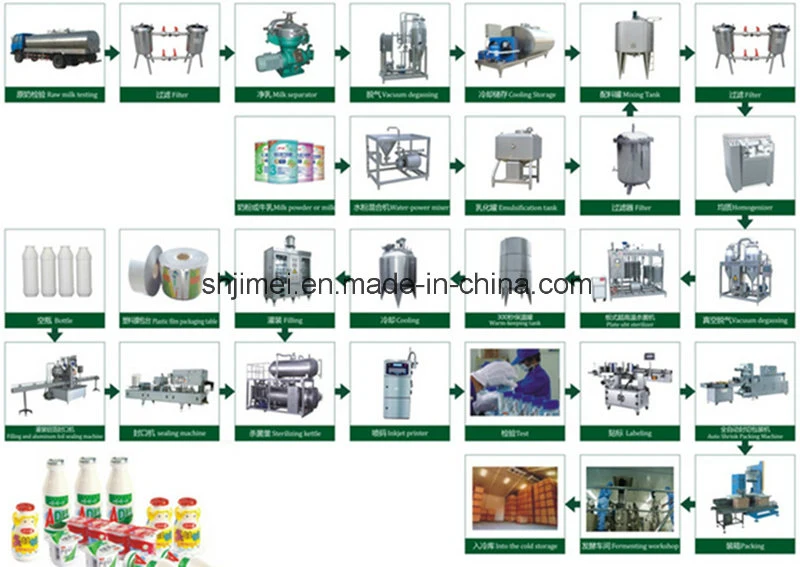 The figure below is an indirect system - tubular UHT plant as an example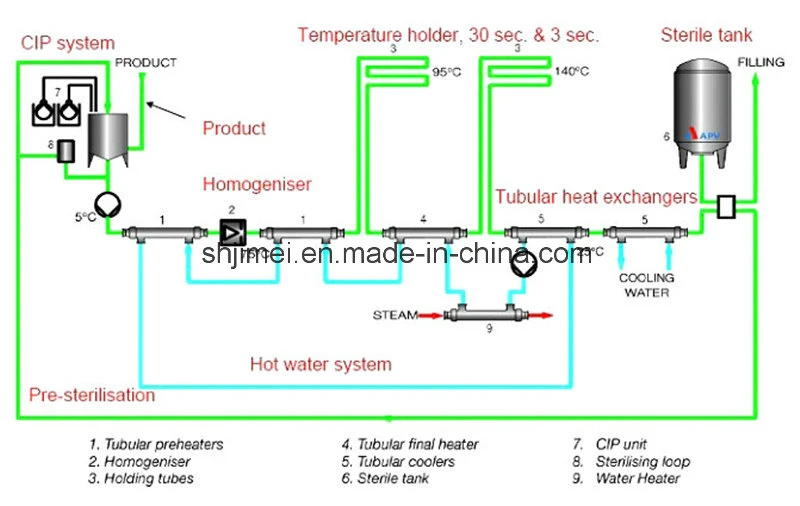 Technical parameters
Raw material
Fresh cow milk , powder milk
production
UHT whole milk
UHT skimmed milk
UHT flavor milk
Capacity
2T/D-500T/D
Endproduct package
Brick shape aseptic carton,Pillow shape aseptic pouch, plastic bottle, etc
About Us
Jimei Holdings Group of China - Shanghai Jimei Food Machinery Co., Ltd. is a collection of scientific research, production and service as one of professional manufacturer of liquid beverage food machinery, high-tech enterprises;the company was founded in 1989 and currently has become a leader in the domestic food machinery industry.
The company's main products include: automatic roof-type carton packaging machine, automatic paper box packaging machine, automatic paper pillow type packing machine, automatic spray sterilizing unit, PET triple filling unit, UHT tubular , plate sterilization machine, aseptic liquid flexible packaging machines, etc., and the formation of fruit and vegetable drinks production line, liquid dairy production line containing carbonated beverage production line, pure water production line, milk powder production line, cold production lines, concentrated fruit juice and jam production line, canned fruit production line eight series as the main supporting parts of the production line equipment Vice scale Group production mode.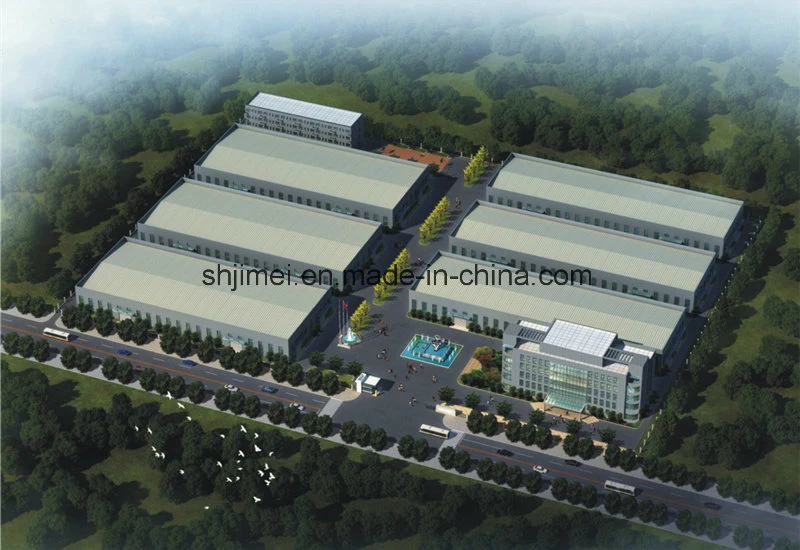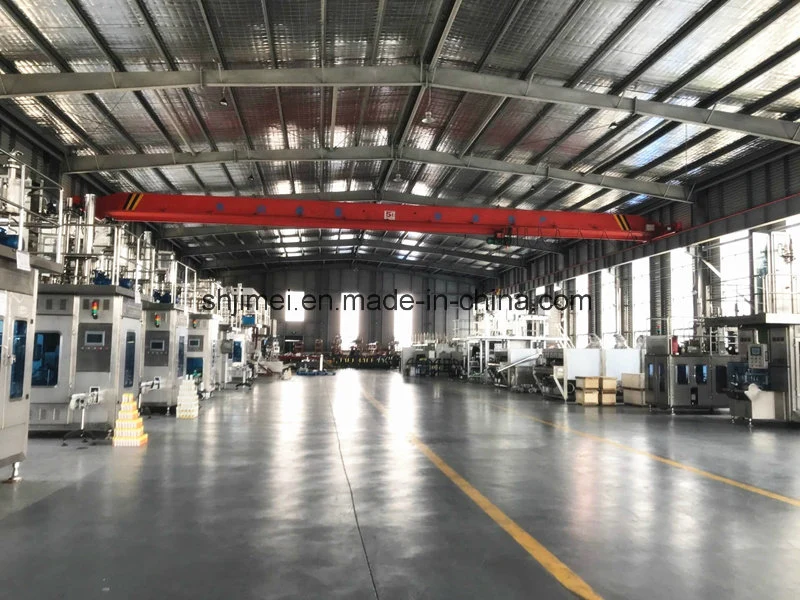 Our Partners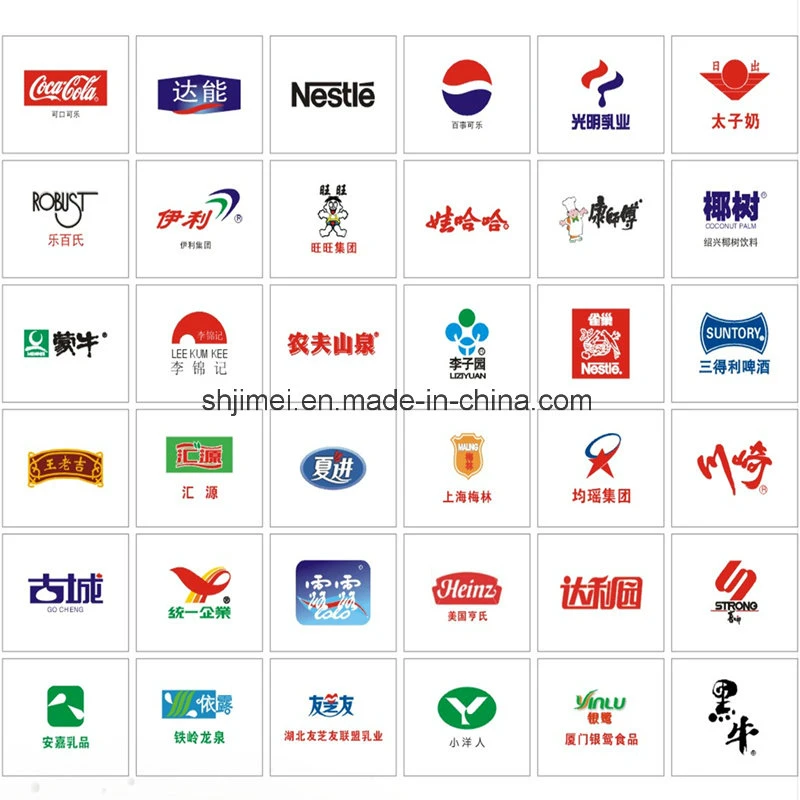 Questions
1.How long can I receive your reply after I send my inquiry?
We will reply you within 12 hours on workday.
2.Are you a manufacturer or a commercial company?
We are a manufacturer, and we have a foreign trade department, we market our own products.
3.What products can you provide?
We mainly produce beverage production machinery and equipment.
4.What are the application fields of your products?
Our products are mainly used by beverage factories or individuals who want to run a milk production plant.
5.Can you provide custom products?
Yes, custom products are our main products. We can develop and manufacture products according to customer's drawing or sample. Saving customer's time on finding corollary equipment.
6.How's your production capacity?
Our annual output is about 800,000 sets.
7.How many employees do you have?
We have over 100 employees, including several technicians and engineers.
8.How do you ensure your product quality?
We conduct inspections in every production procedure, and for finished products, we will take 100% inspection depend on international standards according to customer's requirements.
9.Payment?
We will confirm the payment with you when quoting, like FOB, CIF, CNF or others.
In batch production, we accept 30% deposit, balance against the copy of B/L.
T/T is the main payment, and L/C is acceptable as well.
10.What's your delivery method?
We commonly use sea transportation, using container to deliver the goods through Shanghai Port.
11.Where do you mainly export your products?
Our products are mainly exported to Mexico, Saudi Arabia, India, Algeria, Dubai, Congo, African countries, etc.
Trade Information
1. Package- all equipments packed in nylon cloth and plastic film worthy of sea shipping.
2. Delivery- in 60 days upon receipt of down payments.
3. Warranty-all machines & equipments are of one year warranty and life long maintenance offered by seller.
4. Installation- the seller arrange engineer to set up the equipments and train the operation workers for free, till qualified products are produced and maintenance in normal running, the buyer bear the round air tickets and local accommodation for the seller's engineer.